It's tamale season!  This is the time of year where you start to see tamales on the menu at more restaurants and on grocery store shelves.  We have good news to share!  We are proud to announce our partnership with Taco Bueno.  Taco Bueno operates 156 restaurants across the south and the Southwest.  Taco Bueno will celebrate 52 years by serving up delicious, quality Mexican-inspired classics by doubling down on quality and made-by-hand preparation.  Padrino Foods fits right in to their quality standards and fresh ingredients. Padrino Tamales start from scratch with only the freshest ingredients and quality cuts of meat.  To finish them off, they are still hand rolled in fresh corn husks.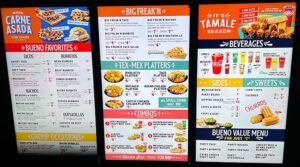 At all Taco Bueno stores, you will now see our tamales on the menu.  They have two flavor profiles for you to choose from.  You can purchase our top selling flavor, Pork, or enjoy a nice twist and grab the brisket tamale.  Check out the menu offerings and pick up 3, 6, or 12 tamales to enjoy this holiday season.  You can expect the same great quality you always receive from Padrino.  Not sure what to serve them with, Taco Bueno has you covered.  Rice and Beans?  Queso?  Guacamole?  What is your favorite pairing with our tamales?
Click here to find a Taco Bueno near you!
We are working hard to continue to make our high quality tamales available to more customers at more locations.  We just got word that we will be on the menu at a major Mexican Restaurant and we cannot wait to officially share the news.  For now, head on over to Taco Bueno and let us know what you like to enjoy with your tamales.