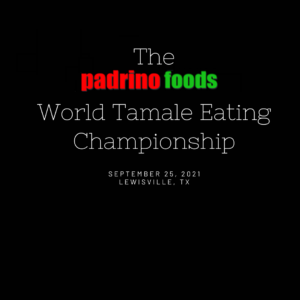 Come join us for The Padrino Foods World Tamale Eating Championship presented by Market Street.  The event happens at noon on September 25 in Old Town Lewisville, TX.  This is a Major League sanctioned event that will be featuring professional contestants.  How many tamales do you think the professional eaters can eat in 10 minutes?  Will the world record be broken this year?  We are excited to be a part of this fun event.  Padrino will be on site to sample our tamales to the crowd as well as answer any questions you might have about us.  Come out to see us and grab some delicious tamales to enjoy!
Click Here to read about a local contestant in the eating competition.  Tune in to our Social Media Pages to follow along with us!
Click Here for more information about Lewisville Western Days!  There will be great concerts, amazing food vendors (including Padrino), the tamale eating championship, games, and family friendly entertainment.