This month, we celebrate Padrino Foods being in business for 15 years.  It's milestone moments like this, where you reflect on where you started and where you are now and all of the moments in between.  Our story is filled with moments of trust, faith, and true genuine hard work.  We truly started with humble beginnings in 2006.  David and Diane Luther (also known as Tamale Dave and Tamale Diane) knew they had the best tasting tamales around and they wanted to share them with others.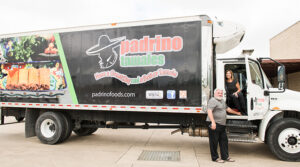 Dave and Diane with our first Padrino Truck
Tamale Dave and Tamale Diane knew that their heating method (boil bags) could truly change the way people enjoyed tamales.  They just needed that first customer to see the value and place the first order so that Padrino Foods could get off the ground.  David and Diane packed up the car with a cooler of tamales and made the drive from Dallas to Lubbock to secure that very first customer.  They visited United Grocers in Lubbock with the knowledge that if United didn't bring our tamales in to their store, Padrino Foods would fail before they even got started.  United tasted the tamales and knew that their customers would love them as well.  They trusted in us to continue to provide tamales made with fresh ingredients and hand rolled in fresh corn shucks.  We took that first success and built upon it with true grit and determination.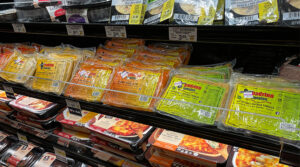 Padrino Tamales on the shelf at Market Street/United – our first customer
Having the best tamales around has also helped us grow over the last 15 years!  We have been able to show our customers that you can have homemade tasting tamales without the process involved to create them.  In 15 years, we have grown from that first grocery customer to a multi-million dollar operation.  As we reflect back, we know that we truly couldn't have grown to what we are (and where we are going) without the support of our amazing employees.  We have employees that have been with us since the beginning.  They have continued to believe in us as we added new flavors, new customers, and revolutionized the way that tamales are created.  In the next year, we can't wait to highlight our employees and all that they have accomplished as Padrino Foods grows.  Make sure to follow us on Facebook and Instagram to keep up with us as we grow in 2022.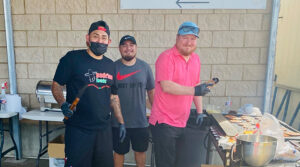 Employee cook-out to celebrate all of their hard work
Cheers to 15 years Padrino Foods!  Cheers to all of our family and friends who have supported and cheered us on!  Raise a glass and enjoy a tamale dinner this Holiday Season!